TRANSAXLES
We currently manufacture the T2000 line of lawn mower transaxles. Typical applications include: Lawn Tractors, Walk-Behind Mowers, Power Wagons, Lawn Seeders and other similar products. This model also serves as a drop-in replacement for the Dana line of transaxles and they meet or exceed the Dana technical specifications. Orders can be shipped on a Just-In-Time basis from our warehouses located in the United States or shipped by the container on a factory direct basis. We can help you choose the delivery method that is best for your manufacturing needs. We also work with customers to design and manufacture new transaxle models for your unique applications.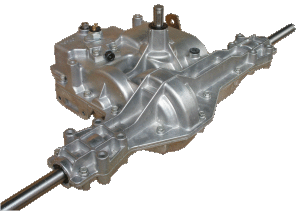 Technical Information:
FEATURES
Die cast aluminum housing | Gears Are Sintered Metal  & Heat Treated | Shift Keys – 2 or 4 keys | Ground Speeds – up to 5‐Forward & 1‐Reverse | Lubrication – 85w140 oil | Axles – ¾" (19.05 mm) diameter | Input Shaft – 5/8" diameter | Needle Bearings – Input | Differential | Service Brake | Optional Bearings on Axles | Neutral Switch ‐ Optional
SPECIFICATIONS
Output Torque – 150 ft-lbs (203.4 NM) | Input Speed – 2,000 rpm (max.) | Brake – Either Side of Transmission | Weight over Axles – 525 lbs (238 kg) max.
DRAWINGS
Provided upon request.