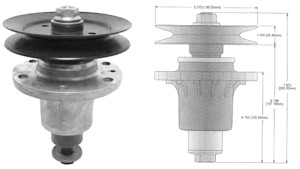 Replaces Exmark 103-1140
Our replacement spindles for Exmark are made with the highest quality materials. We provide high quality drop-in replacement spindles for Exmark 103-1140 and all Exmark lawn mower spindles. For ordering information please fill out a contact form, email or call 502-689-9455.
This spindle replaces the following part numbers:
EXMARK 103-1140
ROTARY 13130
OREGON 82-344
Spindle assembly replaces Exmark 103-1140. Fits 48″ decks on Lazer Z HP models.
Spindle Repair and Replacement:
Replacing your Exmark 103-1140 spindle is a relatively easy process. While we always suggest relying on your local Exmark dealer for service of you Exmark spindles, here is a brief outline as to the steps necessary to replace your spindles. Needless to say, you will want to make sure that your mower is turned off with all safety switches engaged before you begin. You should also consult your owner's manual before attempting any repairs or replacement of parts.
Exmark 103-1140 Spindle replacement: (1) Remove the deck from the mower. This will make it much easier to remove the spindle. (2) Remove the blade and the pulley from the worn spindle. You will likely want to repair all of your mower's spindles even though only one is showing symptoms. By replacing all of the spindles at one time, you avoid repeated down time as spindles separately wear-out over time. (3) Remove the worn spindle from the deck. Exercise care and attention when removing the bolts. Use penetrating oil and let it soak. If the bolts break off you should drill and tap new mounting holes slightly offset from the original holes. (4) Replace the old spindle with your new ProGear replacement for Exmark 103-1105. With any luck, your new spindle should last three to five years.
About Exmark Mowers and Spindle Assemblies:
Exmark is a leading manufacturer of high quality zero-turn lawn mowers. Exmark prides itself on going into the field and riding alongside their customers before they build their mowers.  When you want to replace a spindle on your Exmark lawnmower, look no farther than ProGear. Our spindles are a drop-in replacement for Exmark 103-1140. We take pride in building quality replacement parts that will keep your mowers out of the shop and in the field.
Exmark Spindles | Exmark Spindle Assemblies | Exmark 103-1140
 Exmark Compatible Parts and Components | 48″ Lazer Z HP Spindle.